꒰ 𝑎𝑏𝑜𝑢𝑡 𝑚𝑒 ...♡ ꒱
ㅤㅤㅤణ┊ellie
ㅤㅤㅤణ┊they / she / he
ㅤㅤㅤణ┊lesbian (i think)
ㅤㅤㅤణ┊feburary 23rd
ㅤㅤㅤణ┊pisces
ㅤㅤㅤణ┊infp
i find it kinda difficult to describe myself in a way that both makes sense but also isn't too long, but i'll give it my best shot. thank you for bearing with me. ♡

i find that i have the opposite experience of most people that i know. in real life i'm very excited to get to know people and interact with them, to the point where i outright thrive off of it. i'm the happiest i ever am when i'm around my loved ones.i suppose you could say i'm extroverted.
however, online i become overbearingly shy and reserved. i think this is because i feel extremely limited in the ways i can express myself online through text, so i feel trapped in my own head. luckily though, i have the option of expressing myself through art instead.

i've been interested in drawing as a form of self-expression and as a skill to be refined for as long as i can remember ! i immediately took a fascination in art and drawing from the very moment i could even comprehend it as something that existed.

i started off very simple, just doodling cats and puppies and bunnies to show my mom when i was in kindergarten, but that very quickly evolved into frequently following art tutorials and trying to copy screenshots from cartoons i liked the best i could. when i got introduced to anime, this all very quickly tripled. i think easily the anime the influenced me the most was lucky star, at least in terms of its art style. i think this is still clear to this day.

aside from drawing, i'm also interested in sewing, journaling, web design, needle felt, polymer clay, and all other sorts of arts and crafts !! arts and crafts in general is something that is extremely, extremely valuable to me. the sensation of physically making something with your hands, seeing it come to life from start to finish, is always something that will mean the world to me--and this applies to web design as well, which is really just cybercrafting as far as i'm concerned.

i've always been interested in animals as well. i like all the animals you would expect someone like me to like--bunnies, hamsters, mice and rats, sheep, cows... pygmy jerboa(s).... if i were to list every species of animal that i like i would be here forever probably.

i frequently feel the desire to ""rescue and house literally every single animal in desperate need of a home"", so i'm considering fostering animals in the future. if you're unsure of what that means, it just means that in the future i would sign up with an animal shelter to take care of some of the animals in my home until they're adopted.

frankly, i am still discovering myself. i learn more about myself every day. i unfortunately fell out of touch with myself after a traumatic event, but i am doing so much better, and i'm re-getting to know the child that i thought i'd lost. just as an example, i've spent so much time hiding in my room that i forgot just how much i love people and interacting with people. i forgot who i was, i forgot how to be happy. but i'm remembering more and more and more each and every day as i continue to heal, and seeing the world for the first time again has been a very dramatic and emotional time in my life for me.


꒰ 𝑎𝑏𝑜𝑢𝑡 𝑚𝑦 𝑠𝑜𝑛𝑎 ꒱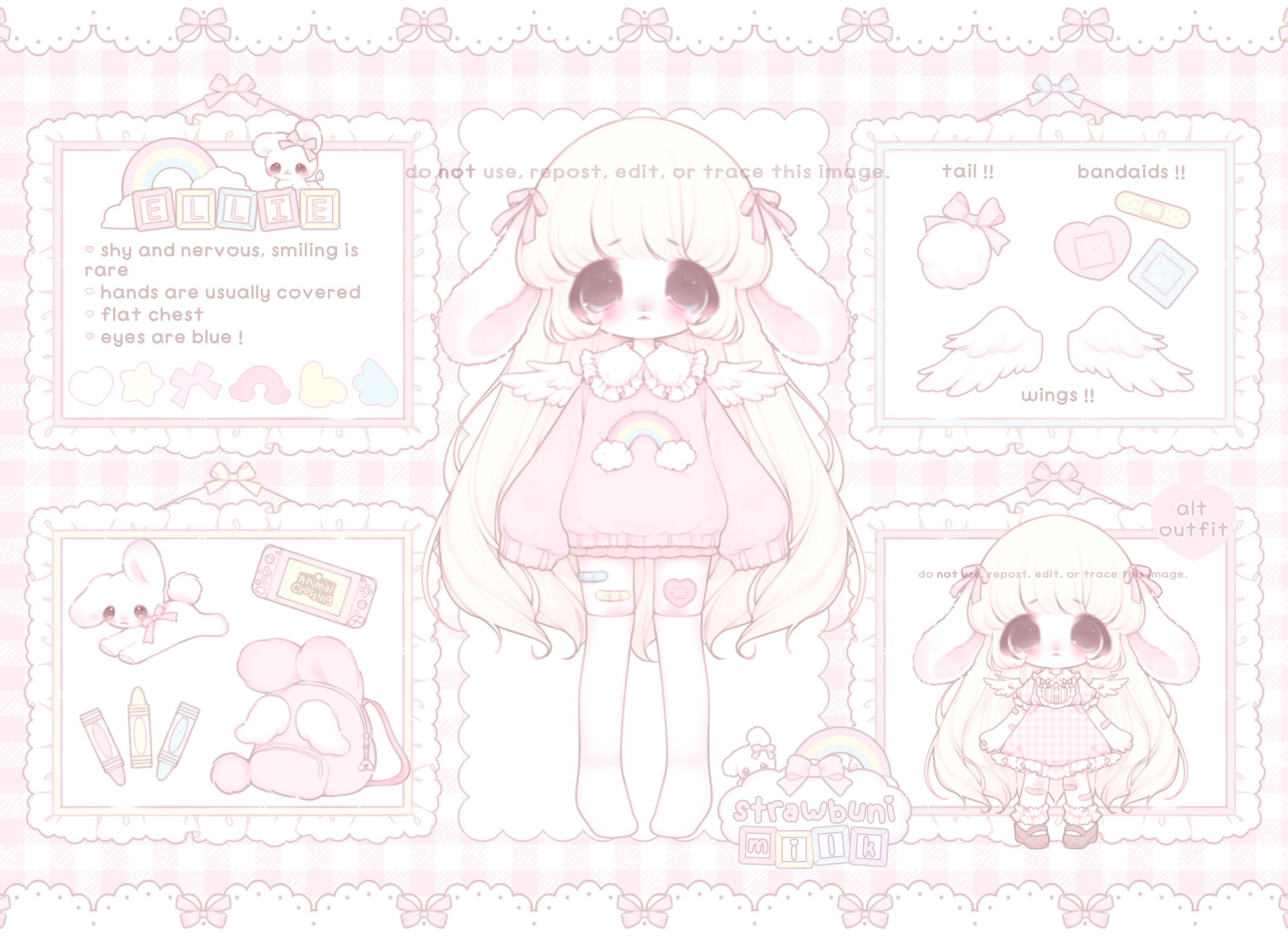 a sona--which, in this case, is short for art persona, generally refers to when you draw art of yourself as an original character. a sona can be a 1:1 representation of yourself exactly as you are, or it can be very very different and really only represent a small part of yourself.

my sona, ellie--who shares a name with me--is mostly a direct representation of myself with the addition of bunny ears and a tail + angel wings, and is therefore quite personal to me. me and my sona share the same hairstyle and color, eye color, clothing, etc. we also have the same plushie, backpack, and switch.

fanart is totally okay ! to show it to me, please tag me or dm me on either twitter, instagram, or deviantart, @strawbunimilk. sorry if that's a little awkward to outright say, but it is a question i get asked a lot

to talk about this as unawkwardly as i can... i just kindly ask that you please keep in mind that my sona is a representation of myself, and i am a real human being, i am a person. when i draw her i am in some part just drawing myself with some animal ears. so please be sure to stay appropriate and respect my boundaries by keeping everything sfw. relatedly, my sona has a pair of shorts sewn into their skirt, and wears cute puffy bloomers under their dress for their alternate outfit. thank you for understanding these things. i'm sorry if it seems unusual to you that i would go out of my way to address or specify this--it makes me uncomfortable as well to talk about it--it's just that it's ufortunately been an issue in the past.

because my sona is so personal to myself, i thank you for allowing her to stay something personal. it does make me uncomfortable when other people use her, and i do think i have the right to ask people to not steal my sona. i really really appreciate that people like her, but i didn't make her to be used by a bunch of strangers. again i am literally just drawing myself with some animal ears, so seeing other people use them just makes me feel uncomfortable and weird. that all being said, i am begging you--BEGGING you to not harass anyone who you may see using my sona. do not be rude to them in any way, please. as i type all of this, i am just attempting to talk directly to people who may have wanted to use my sona to try and help them understand why i would prefer if they didn't. i am not asking anybody to be unkind to anyone else.

it makes me a little sad that when sharing my sona i have to talk about so many things that make me upset and uncomfortable, as my sona is just something that's supposed to make me happy and help me express myself, but i don't really think it can be helped. it's worth it if means double-checking to make sure we're all on the same page.