୨୧ ♡ 𝑎𝑏𝑜𝑢𝑡 𝑚𝑒 ♡ ୨୧
┊ 𝑒𝑙𝑙𝑖𝑒
┊ 𝑡ℎ𝑒𝑦 / ℎ𝑒 / 𝑠ℎ𝑒
┊ 𝑝𝑖𝑠𝑐𝑒𝑠 ꒰ 𝑓𝑒𝑏𝑢𝑟𝑎𝑟𝑦 23𝑟𝑑 ꒱
┊ 𝑔𝑒𝑛𝑑𝑒𝑟𝑓𝑙𝑢𝑖𝑑
┊ 𝑖𝑛𝑓𝑝
hi !! my name is ellie, and my username is a pun on strawberry milk + bunny ! im a little shy online -- i definitely have a problem w/ overthinking everything i say -- so thank you for bearing with me as i fumble around !!

i love drawing, but i'm also interested in sewing, journaling, web design, needle felt, sculpting, and all other sorts of arts and crafts !! arts and crafts in general is something that i really value ! i just really like to make things, it's much easier to express myself through art than it is speech--probably has something to do with my autism !

i live in the middle of the forest in a tiny house, which was a gift from my dad !! right next to my tiny house is my dad's cabin. we live on his private property, which is several miles of forest. we have our own lake, river, and vegetable garden ! i really love it here. we have all kinds of deer, frogs, bees, mice, wildflowers,, it's honestly heaven on earth

i do really love nature and animals. going forward, i'd like to spend a lot more time n energy helping nature and animals in as many ways as i can. it's one of the things that comforts me the most, so i really want to give more back to it !!

trying not to overshare, i do have trauma, and it effects me in pretty much every single aspect of my life. i'm really, really trying to get better !! but i definitely have an attachment to things that remind me of the safe parts of my childhood ! 100% it is where my affection for cute pastel pink babycore/kidcore aesthetics comes from,, i'm also trying to go for that animecore thing a little bit too, because nothing gives me harder nostalgia than animecore tbh. i was (emphasis on was, past-tense) a self-acclaimed ""otaku"" when i was like, 7 or 8 years old

so, like, if a reasonable person wouldn't show your account to a 10-14 year old please don't interract with me ! hopefully this is self-explanitory without making a huge list of super triggering topics !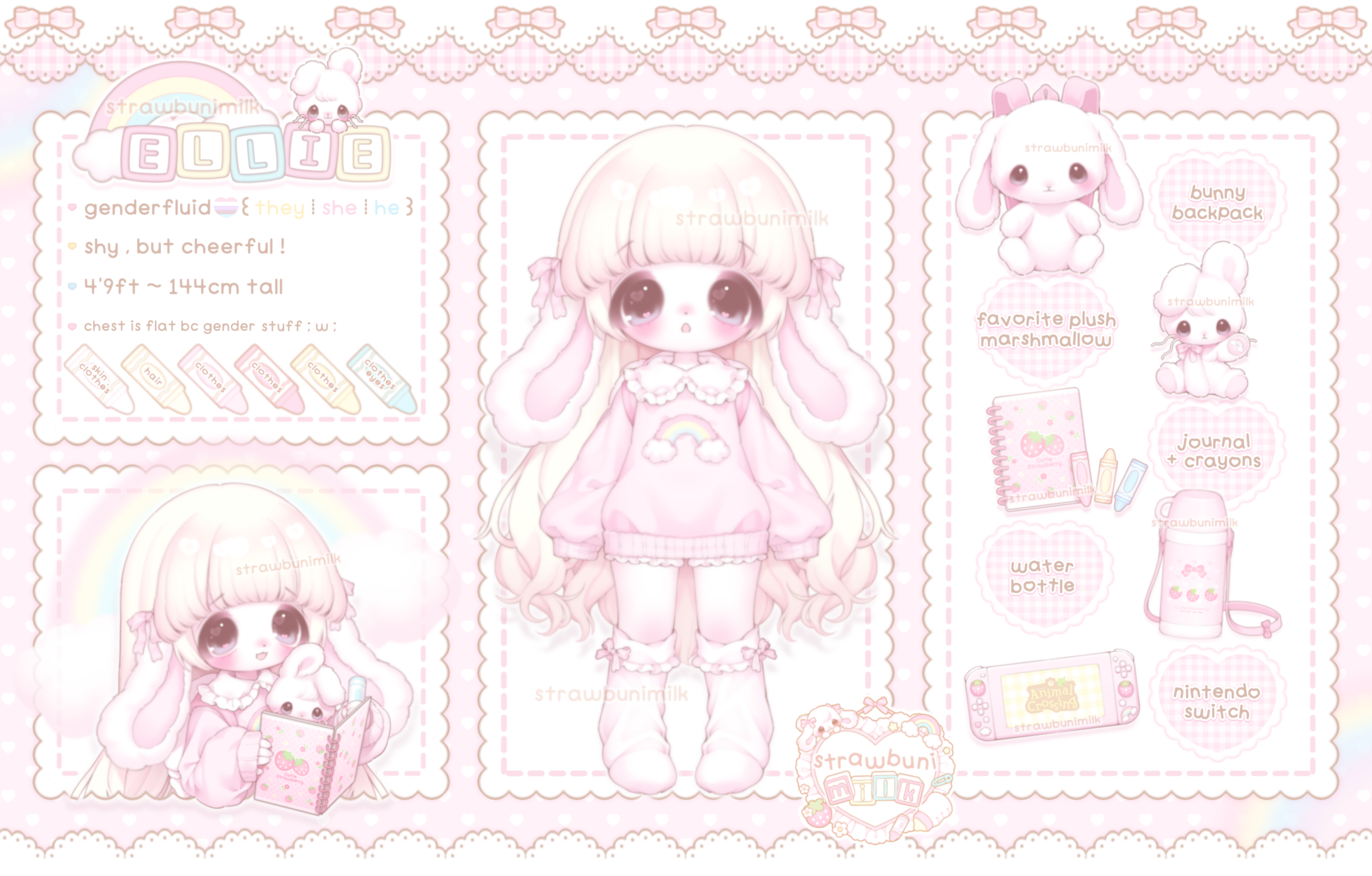 a sona -- which, in this case, is short for "art persona" -- generally refers to when you draw art of yourself as an original character !! a sona can be a 1:1 representation of yourself exactly as you are, or it can be very very different and really only represent a small part of yourself !

my sona is a direct representation of myself with the addition of bunny ears, and is therefore quite personal to me !! me and my sona share the same hairstyle and color, eye color, clothing, etc ! we also have the same plushie (their name is marshmallow hehe), backpack, and switch !! so,, my sona isn't even really an OC at all !! my sona is literally just me, just with bunny ears !!

i get this asked a lot, so i'll quickly get this out of the way -- fanart is totally okay ! to show it to me, please tag me or dm me on either twitter, instagram, or deviantart, @strawbunimilk everywhere. on instagram i also have a hashtag -- #strawbunimilk !

because my sona is so personal to myself, i thank you for allowing them to stay something personal !! it does make me uncomfortable when other people use my sona, and i do think i have the right to ask people to not to do that ! ;;;; i draw myself for myself, y'know,, ? ;;