┊ ellie !!!

┊ they / he / she (genderfluid)
┊ feburary 23rd - pisces

┊ autism + adhd

┊ infp
hi !!! my name is ellie, and my username is a pun on strawberry milk + bunny ! im a little shy, so thank you for bearing with me as i fumble around ,, !! ;; ♡

i really really like to draw, it's one of my favorite things to do ! i especially like to draw pastel cute stuff ,, !! it just makes me happy ,,,, i also try to go for a slight 2000s anime nostalgia vibe in my art !

i live in my own tiny house in the middle of the forest, with my dad and some of my other family as my next-door neighbors ! we share this forest together, and it was my dad that kindly gifted me the house -- thankfully none of us have to worry about rent, we own everything here

our forest is very pretty ! the trees are plentiful and healthy and give us lots of privacy, and bloom all sorts of neat flowers during different parts of the year. we have a big pond full of tons of fish and frogs, too. there's wildflowers everywhere, which bring lots of cute bees, butterflies, mice, birds, deer, squirrels, chipmunks, and many many more friendly creatures !! i love to watch and interact with them, its the best ,, my favorite is when i manage to actually befriend some of them, like when the extra large butterflies will rest on my fingers, or i get to hand-feed any of the animals once i've earned their trust ,, !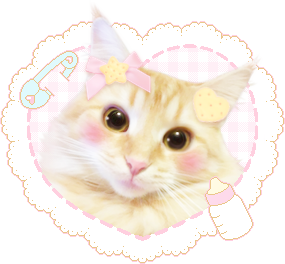 speaking of animals, i also have my pet cat, cookie !!! he's a long-haired orange cat, and his name is more than just a random cute word -- he's named after my childhood cat's brother, because in my heart, he's her brother too ! i had suddenly had the urge to go for a walk, and i found him outside, critically underweight, covered in ticks, and really really sick ,, after getting him to the vet, we were able to give him all the care he needed -- and he needed a LOT of care. all his shots, a lot of exams and tests, some medications, a surgery ,,, not to mention all the things he needed for the home, like toys and other cat stuff ,,, but it was all mORE than worth it ,, !!! he's in incredible shape now, and he means everything to me. hes super outgoing and friendly, cuddly and clingy, hilariously vocal, and all around a really sweet kitty. he makes me laugh, he makes my heart ache, he makes my life so much better. i would never dream of a world without my silly cookie

when im not enjoying what the forest has to offer, enjoying the company of my cat, or drawing, i'm usually spending time with my friends, watching sillay videos on the world wide web, coloring (i have an expanse affection for and collection of crayons !!!), or engaging in one of my other hobbies ! i enjoy sewing, sculpting, journaling, web design and coding, photography, and more ,,, !!! if i wanna be super self indulgent, i might have a tea party or a picnic, hehe

if i were to pick one, and only one trait to define myself with, it would definitely be "optimistic" !! to some extent, i am basically always happy. even when im sad, i always know i will be happy again soon, and all i have to do is reach for it. i know not everyone has it that easy, so one of my primary values in life is to share outlook on life with other people, so that they (and even you !) may be able to be a little more optimistic, too !!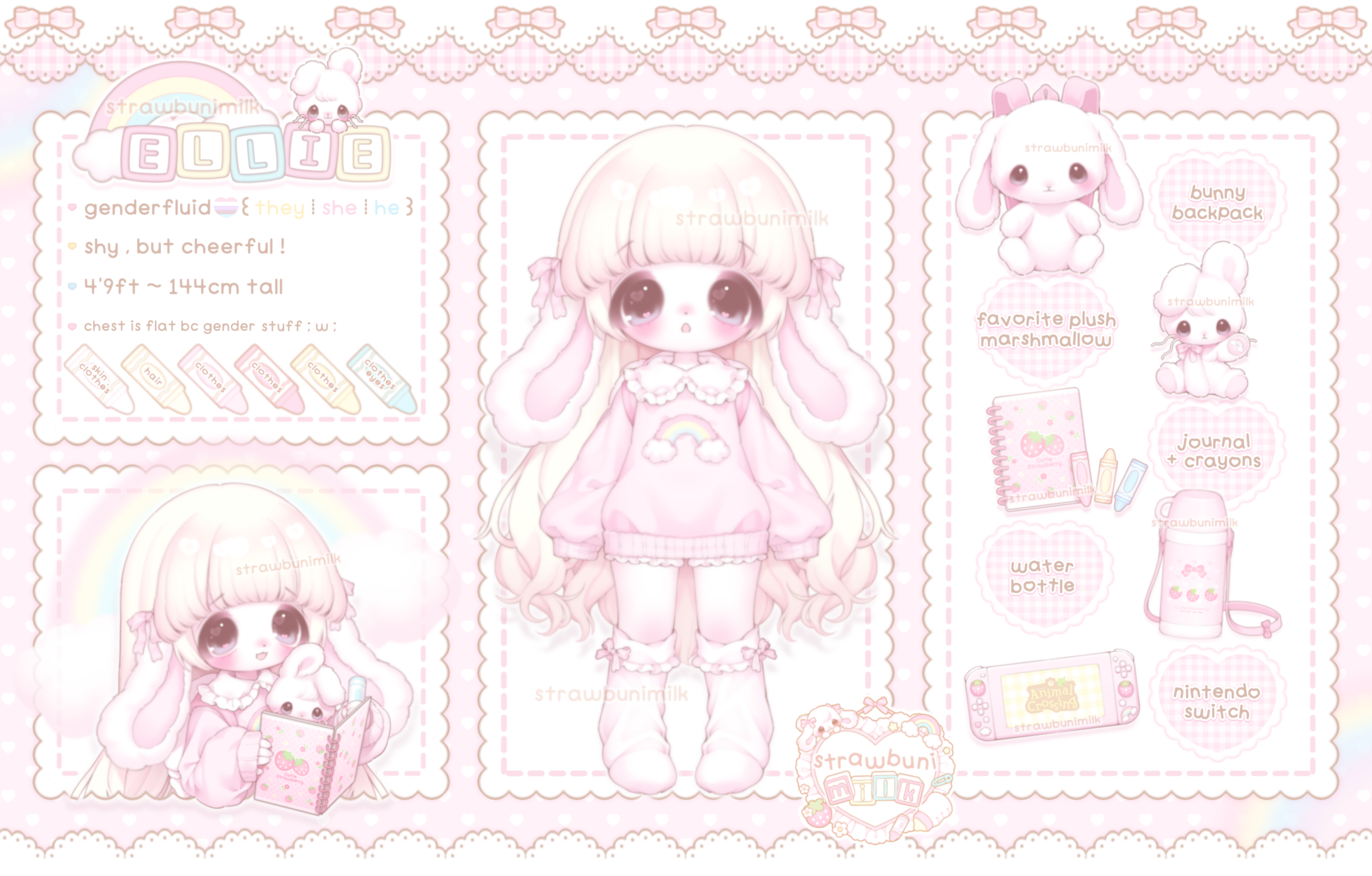 this is my sona !! a sona -- which, in this case, is short for "art persona" -- generally refers to when you draw art of yourself as an original character !! a sona can be a 1:1 representation of yourself exactly as you are, or it can be very very different and really only represent a small part of yourself !

my sona is a direct representation of myself, and is therefore quite personal to me !! me and my sona share the same hairstyle and color, eye color, clothing, etc ! the only difference of course being that, unfortunately, much to my dismay, i do not actually have bunny ears growing out of my head -- i do have a cute pair of pretend ones, though ! we also have the same plushie (their name is marshmallow hehe), backpack, journal, and switch !! so,, my sona isn't even really an OC at all !! my sona is literally just me, just with bunny ears !

i get this asked a lot, so i'll quickly get this out of the way -- fanart is totally okay ! to show it to me, please tag me or dm me on either twitter, instagram, or deviantart, @strawbunimilk everywhere. on instagram i also have a hashtag -- #strawbunimilk !